THE GARDEN ROOM
BOLINAS BED & BREAKFAST
Lovely guest accommodations set amid nearly an acre of lush gardens on the Bolinas mesa
above the beautiful West Marin County coast, available on a nightly basis.
Enjoy pristine, elegant quarters in an idyllic setting.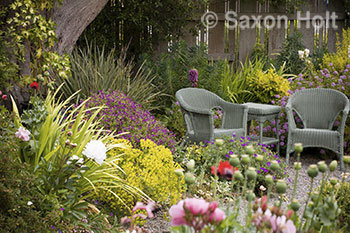 THE GARDEN ROOM features
Private Entrance
Spectacular views of Upper and Lower Gardens
Spacious, light filled main room which sleeps a maximum of three, one double bed & a single daybed.
Private outdoor seating area overlooking the koi pond.
Kitchenette with mini-fridge for beverages and snacks,
facilities for coffee & hot drinks, microwave & toaster oven.
Continental Breakfast fare included.
Charming gas fireplace; Private Bath

The most elegant & special BED & BREAKFAST lodging in Bolinas
RATES
$170 per Night, 2 night minimum
Single Night $210
10% Marin County Hotel Tax additional.
For Availabilityy, Reservations or further information please call 415 868-0784,
or email
Here's what our guests have to say about The Garden Room:
Wow! What a magnificent creation - the gardens, the room, your paintings. It is a fest for the senses. Every little nook sings with beauty" Eleanor
"Until now, we have only seen places like this in magazines! Who would have believed we would find this small piece of paradise in Bolinas!
The bed and breakfast was great, the garden is spectacular, and we did enjoy your art." D & D, Graeagle, CA.

For more comments, information, links to sites of local interest and views of the garden: Garden Room page 2